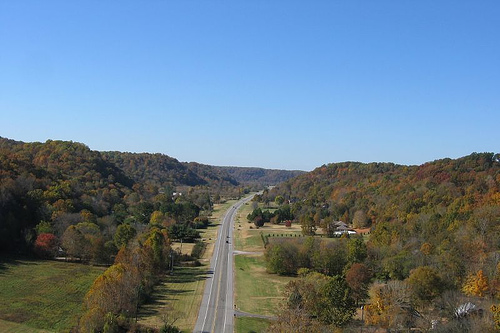 It felt so good to go home! I was craving the smell of the freshly sprung green leaves on trees, seeing wildflowers blowing in the wind, feel fresh raindrops on my skin, and feeling the humidity expand my hair. Just kidding on that last one. But seriously, when I walked out of the airport, I literally said out loud: "Holy humidity, Batman!" It was so nasty humid!
Friday I was able to get my hairs did by my favorite hairstylist, Amanda. I've gone to her for years, and it was sooooo good to catch up and see her cute lil' baby bump! Anyone reading this in Nashville, check her out. Amanda Pierce at
Serenity Hair Studio
in Cool Springs. Tell her Stacey sent ya!
I had lunch with the incredible Kelly Williams, who filled me in on her kids lives (I've known them since they were in middle school!), college, proms, girlfriends....kids grow up too fast these days. Friday night the ladies (Katie, Jenni and I, also known as the Tennessee Trio), went to
Tin Roof 2
for a night of dinner and drinks. Man, I've missed my girls. You know you've found your "people" when you can maintain the same depth of relationship thousands of miles away, and pick right back up. THAT'S a friendship.
Drew, Jenni, myself and Katie
The Melton's came by to say hi! Love these two :)
Preston's wedding was awesome! It was in Arrington, TN, which is a little bit in the middle of nowhere. It was held at the cutest little white church surrounded by miles and miles of nothing but green green fields. I was able to catch up with many friends, old and new, that I didn't realize would be there. Saturday night we went straight to the
Stardust Drive In
, which was one of my favorite things to do while living in TN. It's literally in the middle of nowhere, in Watertown, TN. We watched Robin Hood, and I loved it!
Gotta be a a little goofy here and there :)
One of my dearest and closest friends, Preston.
Congratulations, Preston and Erin!
Sunday my dad and sister drove down from Kentucky, and we had lunch at Puckett's in downtown Franklin. I miss them so much, and was so glad that they came down to see me. It seemed like the weekend flew by, which it always does, and all too soon I had to board my plane back to California.
Or so I thought.
And so begins the worst flight nightmare of my life.
Original flight departure: 6pm.
ACTUAL flight departure: 9pm.
Missed connection, have to stay in Denver.
And I can't get my luggage.
It's 1am.
I'm standing in the umpteenth line, for the umpteenth time, waiting for my hotel assignment.
I stand in line for the shuttle.
I stand in line at the hotel to check in.
I stand and stare at my bed.
It's 3am.
Moral of the story? NEVER fly Frontier Airlines. EVER. Well, I'll need to use my flight coupon, but after that, NEVER again.